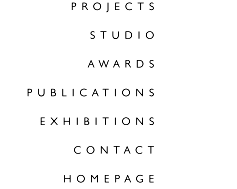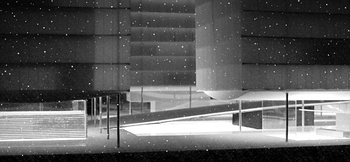 The aim of this project is to create a lively, culture oriented space with the intent of revitalizing the city scape. This project is composed very simply of three principal elements: The house, nature abstracted and an urban fragment. We wish to introduce nature and movement within simple geometries to create complex space. Our intent is to shelter people from the elements but not remove them from the experience of seasons, light, wind and rustling leaves, rain, snow, the sound of children, the smell of blossoms and sunlight.

All spaces accessible to the community are at ground level. These spaces enliven the site with people and activity. Restaurants, shops and other services are accessed by covered arcades. Within the arcade one is protected from the elements but still aware of them by sight, smell and sound. Within the garden, like a cave protected by a low sloping hill, is a large space for community events.

The houses are drifting spaces of varying size held crystalized within three simple pure geometric forms. The complexity and diversity is filtered by a shifting veil of translucent and adjustable glass louvers which transmit tranquil light into the private domestic environment. They also serve to control the elements, view and privacy, and they serve as an excellent acoustic buffer, allowing one to be removed from the cities activity. Within this environment the edges of the apartments vanish and one is surrounded only by space. The spatial dynamics of the individual houses are read, particularly at night, behind the diffuse glass surface. The glass louvers can be rotated, to let in pure light or view, transforming the apartments into spacious airy terraces. From the outside, the still surface of the softly glowing glass volumes becomes rippled in random yet rhythmic patterns as banks of windows are pivoted from within the individual houses.

The three ethereal house volumes float like lanterns above the more complex and active topography of the public spaces. In the slippage between these rigorous and simple volumes, is man made nature, an ordered abstraction of the natural landscape contained by a porous boundary of the active community / commercial spaces which allow the city and natural light to filter in. The gardens consists of four main elements: Pond, hill, cave, forest.